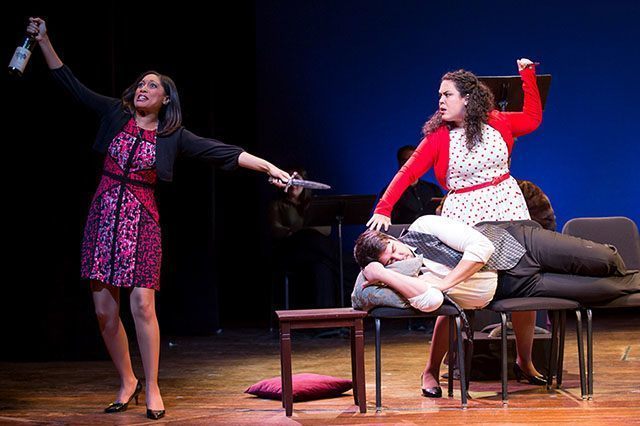 Photo: Scott Suchman
DAUGHTERS OF THE BLOODY DUKE
Commission for Washington National Opera, American Opera Initiative
Librettist, David Johnston
Composer,  Jake Runestad
Running time: 20 minutes
Cast: 1 tenor, 2 sopranos, 1 mezzo
A dark comedic one-act opera, in which Margot, the young daughter of the Bloody Duke of Ravenswood, must choose between love and the demands of her revenge-crazed family.
In a dark Gothic castle, the newlyweds Kent De Quincey and Margot Craven, have just spent their wedding night together. After Kent falls asleep, Margot prepares to murder him, having been ordered to by her father, Gilbert Craven, "the Bloody Duke of Ravenswood." All forty of the Craven daughters have been ordered to kill their husbands – the forty sons of De Quincey, who cheated Ravenswood out of his lands. Margot is interrupted by her sister, Claudia, who is covered with blood, drunk and gleeful after murdering her husband.  After Claudia leaves, Margot attempts again to carry out the deed, only this time she is ordered to stop by the ghost of her grandmother, Eleanor, the Countess of Ravenswood. Margot must finally choose between her family's thirst for revenge and her own growing love for her new husband.
And I was thoroughly amused, as I was meant to be, by "Daughters of the Bloody Duke." The composer Jake Runestad and the librettist David Johnston responded . . . with a loving sendup that amounted to a 21st-century take on an early-19th-century Gothic ballad . . . "Daughters of the Bloody Duke" deserves to have a long and happy life in conservatories and apprentice programs. I would love to see what its creators come up with next.

— Anne Midgette, The Washington Post
Read The Washington Post review here.
Daughters of the Bloody Duke featured in Opera News here.
Daughters of the Bloody Duke in Concert
Produced by American Lyric Theater in New York City: