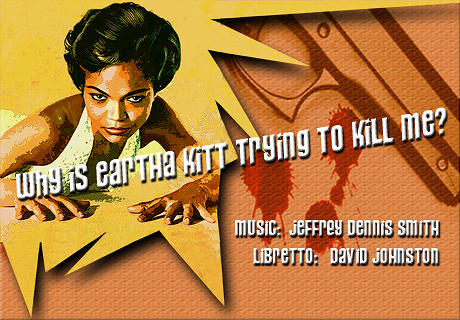 Why is Eartha Kitt Trying to Kill Me? A Love Story
Developed for American Lyric Theatre,
Composer-Librettist Development Program
Librettist, David Johnston
Composer, Jeffrey Dennis Smith
Running time: 45 minutes
Cast: 1 tenor
A new one-act opera about a mysterious – and unlikely – murder suspect. A tour de force love story and mad scene all in one, a man shares his bizarre confession concerning the fate of a hot, young, art world star. Smith's score blends elements of jazz with an edgy contemporary sound, creating an energy that propels the story forward.
Access Electronic Press Kit here.
With Why is Eartha Kitt Trying to Kill Me?, UrbanArias has given us an operatic gem, and the talents assembled for the production have encased this most entertaining work in pure gold… Librettist David Johnston has created a marvelous series of vignettes through songs with sometimes strings of words that often change our mind about what is going on in an instant.) — DC Theatre Scene
In all seriousness, UrbanArias' production of "Why is Eartha Kitt Trying to Kill Me?: A Love Story" is a smart take on what the medium can be: poignantly tragic, yet light and accessible…As we are dreamily ushered through JB and Joey's love story, subtle hints drop that perhaps not all of what we are witnessing is true – but do we accept this as innocently over-romanticizing a flirty affair or is our main character not being completely forthright with us? And if he is not, is it intentional dishonesty or does he fully believe his own story? The graying of this line is the crux of the show and the beauty of David Johnston's libretto.)  — Washington Classical Review
Trailer:
Click here to watch the full opera.